Dear Reader,
A short note to highlight new things in the studio.
Our studio continues to nurture a culture of quality in art work and finishes.
Our designs reflect both the natural beauty and cultural vibrance of our part of the world.
We were looking at our dinnerware choices and thrown a colour palette and content theme, the decorators gave us this: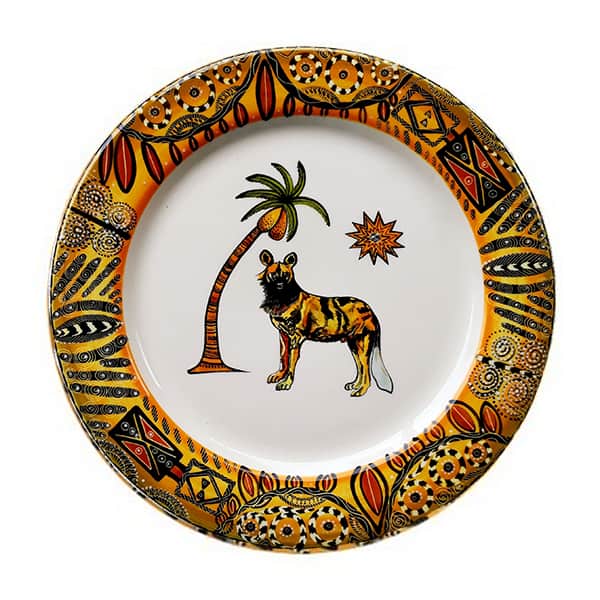 "ekuhle"
Ekuhle is an Ndebele cultural expression used when approaching another's home. 
It means:  "we come in peace".
The design-work on the rims are left to the discretion of the decorator.  The element of surprise in our work is enduring.  Every piece is unique.
Follow our Facebook page: thehippostudio. Discover weekly, the studio's range of design concepts and products.
---
Using certified glazes and clays from South Africa. 100% food safe, microwaveable, dish-washer friendly.


---

We ship worldwide.


---

Supporting a small community of local artists and other skill sets. A studio that nurtures the integrity of art and the well-being of all its employees.


---

Instagram page: thehippostudio
PRESENTATION PLATE

# 101

Ø32 cm

DINNER PLATE

#102

Ø27cm

BREAD/SALAD PLATE

#103

Ø22cm

SIDE PLATE

#105

Ø19cm

Please kindly note, while every effort is made to meet dimension specs, being handmade there may be a "mm or two" out of place.
Read on for more on the special pieces featured below.
PLANTHOLDERS AND LAMPS
These are new pieces to our product range. These products might not yet be featured in our catalogues and I have tried to include relevant information. We have ventured a little further into the lifestyle collection pieces, or homeware.
Plantholders (L) #283
Height:  18cm
Ø/Top:  23cm
Weight:  2.7kg
Design:  Tribal Fusion and Birds in black and white BELINDA MARY COLLECTION
ANNIE'S LAMP BASE (L) #305
Height:  33,5cm
Weight:  3.03kg
ANNIE'S LAMP BASE (L) painted by Master in the Mashona (White sky design).  Every angle gives you a lovely view of our beautiful and lively landscapes.  Find more of the Mashona design in the CHEKARI COLLECTION